Full 1
The Role of a City Elders™ Council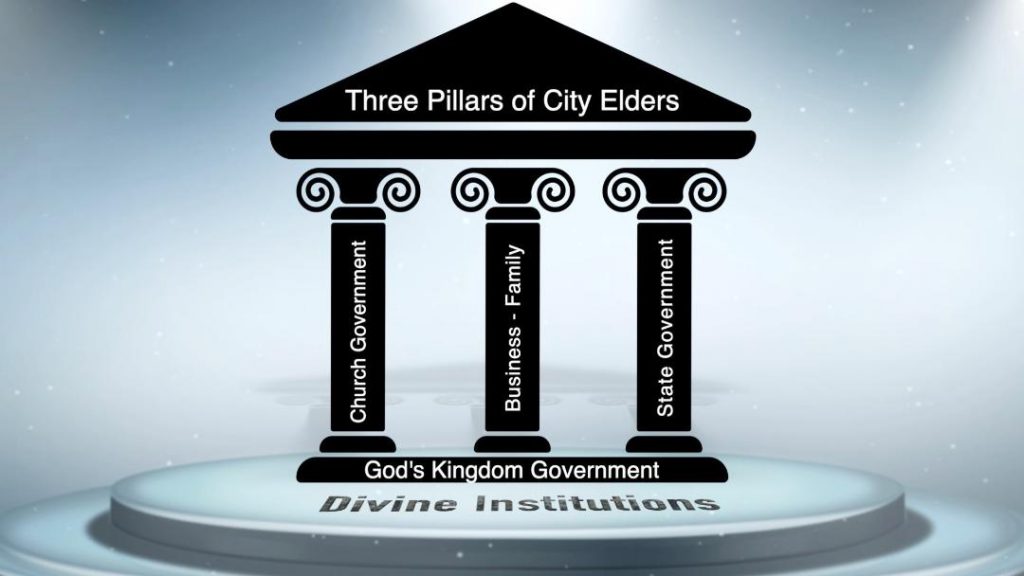 Facilitate the unity of the Body of Christ
Provide a covering and accountability for civil government
Establish divine order in spiritual and civil governance
Be a hub of resources, connections, manpower for mobilization for the kingdom advancements
Protect the city and inhabitants from ungodly individuals rising to positions of power and influence
Prohibit the powers of darkness from infiltrating government systems or any structure of authority and making laws contrary to nature and nature's God
Our Spiritual Governance Councils Issues & Causes
Meet Jesse Leon Rodgers
Hi, I'm "Jesse" Leon Rodgers welcoming you, to City Elders, the Biblical Model of City Governance. The crisis in our government has sounded an alarm. The Kingdom is calling Spiritual Elders, who are Church, Business, and Civic leaders, to govern at the gates of the city. Join us as Governing Councils are built in every county seat of America. Our focus is The Kingdom of God, His will be done.
Why We Stand With City Elders™
"

City Elders

is perhaps the greatest model in the nation of combining church place and workplace leaders as gatekeepers to influence society in each county of the United States."
Publications & News Media
---
Weekly Meeting: Thursday May 25, 2023 8:30am
Tulsa Marriott Southern Hills
(Open seating, free, no registration required)
City Elders Hosts MATTHEW LOHMEIER
Space Force Commander Under President Donald Trump
Former Space Force Commander under President Donald J. Trump, Matthew Lohmeier was trained in Oklahoma and lived in our state for several years before he took a command position at the newly formed U.S. Space Command in Colorado. He is the author of Irresistible Revolution, a book detailing the Marxist influences which have commandeered the U.S. military at the highest levels.
Lt. Col. Lohmeier understands at the deepest level that America is under siege and is already in the beginning stages of a Marxist Revolution. For the sake of preserving our divinely-blessed nation and its military from the poisonous false promises of socialism and communism, he published Irresistible Revolution: Marxism's Goal of Conquest and the Unmaking of the American Military. When his book exposing Marxist infiltration into the highest levels of the U.S. military was published, he sacrificed his extraordinarily promising military career.
He courageously describes how the new training of military personnel is based on Marxist principles, and the administration that approves of such training by logical deduction is either sympathetic to or supportive of Marxism. All people need to hear from Commander Matthew Lohmeier to recognize the danger and what can be done to stop it.
Matthew writes: "Marxism justifies the destruction of what is, asserting that a revolution will bring about something that will be better. The past ought to be destroyed; traditional religious and cultural sites must come down, because they are, after all, only a symbol of the oppressor, those with privilege. They are vain monuments to those who unjustly wield power in the old society. To maintain the vestiges of old society is to perpetuate oppression."
Please do your part in defense of the Republic and bring a leader with you to hear from this defender of freedom and protector of America!
DO NOT MISS this opportunity to hear and meet Matt Lohmeier, first Commander of Space Force!
---
Monthly Banquet: Thursday June 1, 2023 6:30 pm
Tulsa Marriott Southern Hills
(Registration is required)

City Elders is proud to host dinner with Congressman Josh Brecheen!
You don't want to miss hearing Oklahoma's newly-elected United States Congressman Josh Brecheen speak!  Josh says "Only a return to biblical morality and adhering to the Constitution can bring about the course correction our nation so badly needs. All of us must be a part of the solution, wielding our influence in our home and communities."
Josh served as a field representative for United States Senator Tom Coburn for six years. He was thereafter elected to the Oklahoma House of Representatives where he served for eight years, from 2010 to 2018.
Josh now serves the 2nd congressional district of Oklahoma in the United States Congress. He has already established himself as a no-nonsense fiscal and Constitutional Conservative.
The 2nd Congressional District of Oklahoma is well served and well represented by Josh Brecheen. Come and hear what he is doing to hold the D.C. establishment accountable. Oklahomans can be thankful we have sent a true leader to the DC swamp who represents our values!
Don't miss this amazing opportunity!
---
Read More